The NAS-JRB Willow Grove Redevelopment Plan represents a culmination of months of research and input from the HLRA Board and Horsham community. The resulting plan seeks a balance of land uses that capitalize on the region's strengths, as well as the needs and wants of the community.
The Redevelopment Plan is focused on the creation of job generating uses through a variety of mixed used including office parks, a hotel/conference center, low and moderate density residential areas and a Town Center.   Possible amenities in the Town Center could include a movie theater, bowling alley, ice skating rink and other retail and restaurant options to serve the Horsham community.  The Redevelopment Plan also provides for a school and recreation area, a historical aviation museum, family entertainment facilities and parks and open space.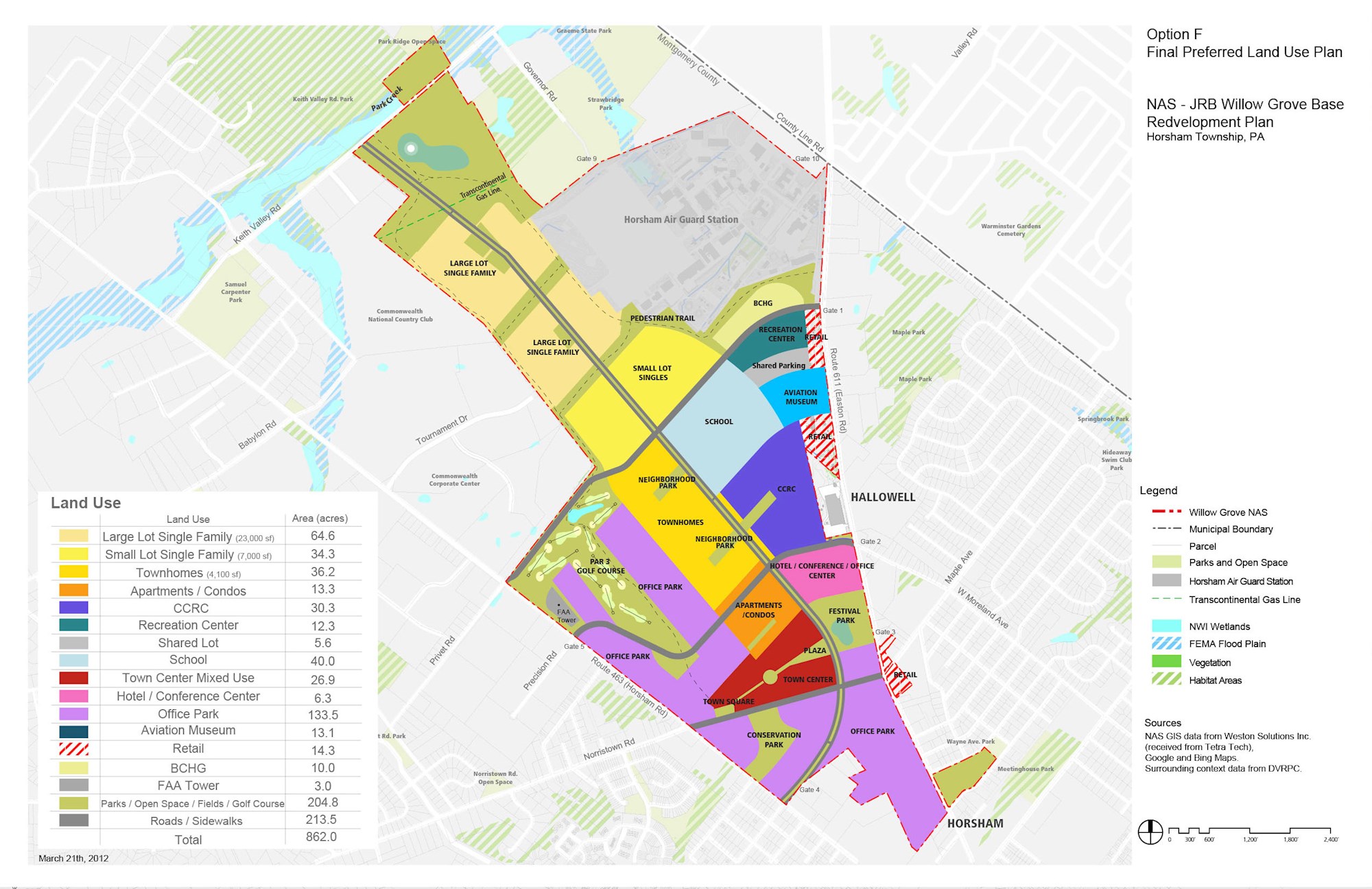 Highlights of the NAS-JRB Redevelopment Plan
Fiscal Impact
At build-out the expected total revenues to the School District and Township in 2011 dollars is expected to be approximately $13.6 million, $5 million over anticipated operating costs.
Job Creation
At full build-out, it is estimated that over 7,000 jobs will be created. The majority of jobs are a result of the office park (4,652 jobs) and Town Center retail (1,198 jobs) developments.   Annual payroll at build-out is expected to be $457 million.
Town Center
The Redevelopment Plan includes a mixed-use, pedestrian-oriented Town Center that is accessible from both Horsham Road (Route 463) and Easton Road (Route 611). The Town Center will include retail, office, entertainment, and residential uses.  The Town Center also provides a sense of place with gathering spaces and a plaza incorporated into the design. The plaza can accommodate a water feature or recreational uses such as an ice skating rink.
Residential Uses
The plan provides for distinct residential neighborhoods that include a broad range of housing types and price levels. These neighborhoods are connected together through a network of streets, including a central Grand Boulevard, which provides access to parks and open space. The street network encourages walking and connectivity with the surrounding neighborhoods as well as other uses in the site, such as the Town Center. Residential neighborhoods are centered on a neighborhood park and have easy access to recreational uses including pedestrian and bicycle trails.
Office Park
Office and business parks are proposed along Horsham Road and south of Maple Avenue and are in close proximity to the proposed Town Center. The office parks are also positioned to take advantage of public open space and golf course amenity that is located in the middle of the office development off Horsham Road.
Hotel/Conference Center
A hotel and conference center is located near the proposed office parks and mixed-use Town Center.  The proposed hotel and conference center facility will have visibility from Easton Road. The hotel is positioned to draw upon the demand that will be generated from the proposed office parks.
Congregate Care Retirement Community (CCRC)
A Continuing Care Retirement Community (CCRC) is proposed in the northeast portion of the study area site between the Grand Boulevard and Easton Road. A CCRC is a type of retirement community where a number of senior care needs, from assisted living, independent living and nursing home care, may all be met. Housing types within CCRC's can include detached and attached single family homes, duplexes, quadraplexes, apartments, and assisted living center and nursing care units. Medical office and other support facilities are also proposed in proximity to the CCRC.
School
A 40-acre site is proposed for the Hatboro-Horsham School District for replacement of existing school facilities and future expansion. The proposed school site would include a future middle school, administrative and recreational uses. The school site is centrally located near the intersection of Grand Boulevard and Privet Road extension and within walking distance of the residential neighborhoods. The school site is adjacent to the recreation center, which allows for the sharing of recreational facilities.
Retail
In addition to the retail programmed into the Town Center, the final Preferred Redevelopment Plan has retail frontage along Easton Road. Easton Road is a well-travelled road, and retail located in this area is well-positioned to capture sales support from drive-by traffic.
Regional Recreation Center
A regional indoor recreation center with several outdoor recreation fields is proposed near the existing Gate 1 area with visibility from Easton Road and adjacent to the proposed middle school. The indoor recreation center may include multiple athletic features such as a gymnasium, swimming pool, basketball courts, climbing halls, multi-purpose hall, health and fitness club, tennis and racquetball courts. An outdoor recreational area is also proposed, and may include a range of active recreational fields including soccer, baseball, lacrosse, softball and others. It is hoped that these fields will be used to attract high school and collegiate tournaments for soccer and lacrosse, among others. The recreation center, school, and aviation museum/park were all carefully planned to be clustered together so they could share common facilities and open space features. This allows for a shared parking area between the three uses and shared recreational/field space.
Aviation Museum/Park
A 13.1-acre site is proposed for the future aviation museum and park located on the eastern edge of the property with direct visibility from Easton Road. The aviation museum and park are being sponsored by Montgomery County, on behalf of the Delaware Valley Historical Aircraft Association (DVHAA). The DVHAA is a nonprofit entity currently operating the existing aviation museum on site. The proposed museum and park will likely include a number of restored aircraft and other historical artifacts relating to the military's past activities at NAS-JRB Willow Grove. In the recent past, the museum operated on 2.6 acres and more recently the HLRA provided additional access to 4.3 acres through a lease agreement between the Navy and the HLRA.
Homeless Housing
The Plan will provide for an area for permanent supportive housing under provisions of the Base Closure Community Redevelopment and Homeless Assistance Act of 1994 (The Redevelopment Act).   The Act details a community based process where representatives of the homeless and other community groups participate in the local reuse planning at closed military facilities. The federal government mandates that groups that provide services to homeless persons and families in Montgomery County or Bucks County be given the opportunity to acquire property at the former NAS-JRB Willow Grove for public benefit use.
The NAS-JRB Willow Grove Redevelopment Plan appropriately balances the needs of the various communities for economic development, other development and homeless assistance. Approximately 10 acres will be designated for 70 permanent supportive housing units in response to the Notice of Interest submitted by Bucks County Housing Group/Genesis Housing Corporation/TRF Development Partners. The residential area will be integrated into the site with amenities and buffers required by all new residential developments in Horsham Township.
Parks/Open Space
The Redevelopment Plan includes a network of parks and open spaces which will be able to provide for a range of recreational uses and activities. A total of 205 acres of open space is proposed within the land use plan, which comprises about 24% percent of the total land area. The parks and open spaces will be able to support natural resources and vegetation. The park and open space network also will be designed to be part of a comprehensive stormwater management system and provide controls to address localized flooding issues at the property boundaries, especially along Keith Valley Road. Pedestrian and bicycle trails will connect the study area with existing local and regional trails within Horsham Township (Samuel Carpenter Park Trail and Power Line Trail, etc.).
Neighborhood Parks - Small park areas located within residential neighborhoods.
Community Parks - Located throughout the study area. They include:

Nature Park - This Park is located near Keith Valley Road / Strawbridge Park and Graeme State Park. The nature park will include the low lying floodplain area near Keith Valley Road east of the existing Strawbridge property and Graeme State Park. The nature park could be used to provide educational opportunities.
Festival Park - The proposed Festival Park is located near the Town Center along Easton Road. This park will be a central gathering place where celebrations, festivals, and other public events can be held. A water feature and ice-skating rink is also proposed within the Festival Park.
Conservation Park - A park is located along Horsham Road close to the proposed Town Center. It is envisioned as a place where Township residents and visitors can relax and enjoy the natural beauty and wildlife of the area.
Town Square and Town Center Main Street - The proposed Town Center will include a town square and a Main Street connecting Festival Park and Conservation Park. The Town Center Main Street will be lined with retail establishments. The Town Square will provide for additional public gathering/meeting space.

Community Golf Course - A 9-hole, Par 3 golf course is proposed within the middle of the property adjacent to the Commonwealth National Country Club. The golf course will include the existing pond. This "chip & putt" facility will be a recreational amenity open to the public and will also serve as an open space amenity for the office park.
Green Corridors and Trails - The Grand Boulevard is also proposed as a green corridor that will connect the entire development together and serve as a central road through the site. It will feature a wide median that will include pedestrian and bicycle trails and bio-swales as well as best management practices for storm water management. A network of walking paths will traverse the property and connect with the township's existing public trail/bike path network.
Open Space near Office Parks - Open space is proposed near the office parks along Horsham Road as an amenity to the office uses.